The Edinburgh DMU Story - by Alan Rintoul
---
Part Two
The standard livery for DMUs from new was green with cream lining and plain green ends then speed whiskers on all but the Gloucesters, with yellow warning panels becoming standard from 1962.
Although the new DMUs generated a significant increase in passenger numbers, this wasn't enough to sustain the losses of the services they were operating. The year 1962 was a bleak one for the Edinburgh rail network and a major transport setback for the future was brought about by the closure of the Peebles loop, Suburban Circle and Leith North services. The Beeching Report closed the Musselburgh branch in 1964 which took with it the Edinburgh local stations at Abbeyhill, Piershill, Portobello and Joppa, while the most ludicrous closure of all was effected from 31st December 1967 when the Corstorphine branch was closed. No attempt was made to rationalise operation of these services by having unmanned halts or conductors on board in the Paytrain fashion to which DMUs were so well suited. The North Berwick branch survived and became the only regular DMU service departing from the east end of Waverley station.
The Swindon Inter-City sets continued to operate the Glasgow services throughout the 1960s, but they did occasionally venture further afield. On summer Saturday afternoons, one of these sets was diagrammed for an Edinburgh - Newcastle round trip making connections there with trains to and from the south.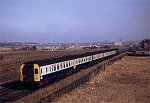 The corporate identity for BR started to manifest itself from 1967 when the Swindon sets were repainted to standard coach blue / grey livery, while all other types were painted all over blue: initially with half yellow ends then full yellow ends.
Right: Five of the six cars are in blue/grey on this Swindon set, the last one remains in green. Heading west, the two lines closest head for Glasgow, the far two soon bend off and go towards Fife. In the distance a blue liveried Metro-Cammell is about to pass Haymarket depot and enter the station. GM Staddon
The Gloucester and Metro-Cammell units continued to operate stopping trains north and west of Edinburgh and were joined at Leith for a short time in 1966/7 by Derby Lightweight sets surplus to requirements on the Eastern Region. Their lack of coupling code compatibility with other units gave them a restricted scope of operation and they were withdrawn and returned to the ER except for two DTC cars (79250 and 79252) which found themselves used as staff quarters at Craigentinny and Bellahouston (Glasgow) carriage sidings until the late 1970s.
With traffic patterns changing due to line closures, changes were made to the DMU fleet with a number of Gloucester and Metro-Cammell twin units sent to Norwich to replace non-standard Derby and Metro-Cammell Lightweight sets.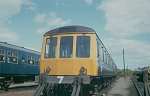 The ER supplied a number of Metro-Cammell triple sets and from the WR came Gloucester single cars (later Class 122), three of which were converted to parcels use during 1968. These parcels cars were often used on Dundee and Stirling services coupled to a passenger set.
Left: 55000 on Haymarket depot in July 1978. Alan Rintoul
Visitors to Edinburgh were Hamilton-based Derby triples (later Class 107), Cravens twins (later Class 105) and from 1969, Derby Suburban triples on services from Glasgow Central via Shotts. The Swindons were replaced on the Edinburgh - Glasgow route in May 1971 by Class 27 Push-Pull sets, but for a while a Swindon set was kept spare at Waverley to cover failures of the new trains.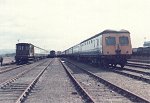 By the end of the year most cars had been withdrawn and dumped at Millerhill Yard (right, Tony Wilkins), although a handful of cars were transferred to Ayr to work alongside the later-built, but similar, Inter-City sets (later Class 126). Amazingly, five cars were given an overhaul at Glasgow Works and exported to Liberia for use by a mining company transferring workers.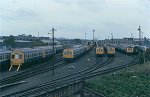 Following withdrawal of the Swindons, the depot at Leith Central was closed in April 1972 and its remaining allocation transferred to new sidings at the east end of Haymarket depot, seen on the left in September 1986. Alan Rintoul.
The Gloucester sets were now considered non-standard and late in 1972 those not already transferred to Norwich were withdrawn although the power cars were quickly reinstated to service. The DTC cars however went for scrap at Wards of Inverkeithing. Electrification of the Hamilton Circle service from Glasgow Central allowed transfer of some Cravens twins to Haymarket to replace the Gloucesters, although it was not uncommon to see Gloucester / Cravens hybrid units. One Gloucester car, DMBS Sc50342 became a celebrity in that it was the last DMU car on the entire BR network to retain green livery, not receiving a coat of rail blue at Glasgow Works until late 1973. The last Gloucester cars left the area during 1975.