The Edinburgh DMU Story - by Alan Rintoul
---
Part Three
From 1976, the ScR wished to rid itself of twin sets and until this could be achieved, three-car sets were made up of DMBS + DTC + DMC, not always of the same build. The last DTC cars were withdrawn or transferred away in 1977 when an influx of ex-ER Metro-Cammell cars arrived. These cars were easily recognised as they retained their aluminium window surrounds while the original ScR cars always had theirs painted over.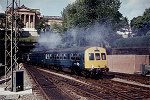 Right: DMC 50176 with aluminium window surrounds is paired with a DTC, with a DMBS stuck on the end. Departing Edinburgh Waverley June 1977. Alan Rintoul
By this time BR had still not found a replacement for their ageing DMU fleet and a stop-gap solution for life extension was to refurbish the types which would remain in service for the foreseeable future. The Metro-Cammell cars were the ScR's most numerous type and improvements were made to interior decor, lighting, ventilation and heating systems as well as new exhaust systems and livery.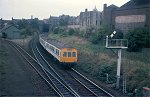 Left: The prototype refurbished Class 101 cars 51518, 59545 and 51451 are about to enter Inverkeithing from the Edinburgh direction. The branch on the left went to Rosyth Dockyard, which had a service for employees. August 1976. Alan Rintoul
Plain rail blue gave way to an overall white with rail blue waist band, but this proved impossible to keep clean, particularly during the winter months, so from 1978 all refurbished cars appeared in standard coach blue / grey livery. Although the Cravens cars were not included in the refurbishment programme, some cars did receive the blue / grey livery for working with Metro-Cammell cars. For a while in the late 1970s, it was possible to see three-car DMUs with each car in a different livery: blue / white and blue / blue and grey!
Despite their age and deteriorating passenger comfort, DMUs continued to be used on long-distance journeys. Throughout the 1970s, DMUs from South Gosforth, Darlington and Carlisle would bring school specials from Tyneside, Teeside and Cumbria to Edinburgh with Metro-Cammell and Derby twin and quad-sets. Later, Cravens and BRCW Class 104s would also appear. There was also a Whitley Bay - Glasgow Queen Street summer Saturday service which was operated by South Gosforth DMUs.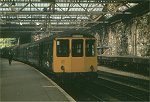 Right: a Class 104 in Waverley in July 1978. Alan Rintoul
When 1980 dawned, the unit allocation to Haymarket was made up of Metro-Cammell Class 101s and a few Cravens Class 105 DMBS cars (although these had gone by 1981) and a couple of Gloucester Class 122 single cars which were used to strengthen trains at busy periods. There were also the parcels vans now classified 131s.
The delayed introduction of second-generation DMU stock for the Edinburgh area in 1986/7 caused a migration of redundant DMU cars from south of the border to replace some of the clapped-out stock at Haymarket, although some of the replacements were little if at all better! It was now possible to see Swindon Cross-Country Class 120s, BRCW Class 104s (some of which were repainted into blue / grey) and Derby Class 107 and 108s operating from Haymarket until the new stock arrived.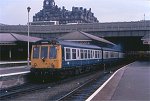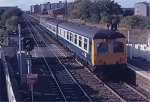 Left: 3-car Class 108 set 383 led by M51566 awaits departure from Waverley in April 1986. Right: Set 522 is formed of two Swindon 120 power cars and a Metro-Cammell centre car, seen at Kingsknowe in August 1986. Both Alan Rintoul
Gradually, these clapped-out and work-weary sets were withdrawn with the Swindons going first, then the BRCWs and finally the Derby and remaining Metro-Cammell sets. However, overcrowding on the Class 150s on the Fife Circle during peak periods caused a requirement for further sets. No new-generation stock was available so, amazingly, some ex-WR Pressed Steel Class 117s were pressed into service from Haymarket.
They were repainted into Regional Railways colours and put to work on morning and evening peak services to Fife and Perth and survived until late 1999 before regular commuters became vociferous of the poor condition of the trains. Frequent negative publicity in the media caused Scotrail to acquire new stock and the First-Generation DMU in Edinburgh passed into history.
Right: Set 117 314 leaves Haymarket, entering the long tunnel that takes it to Princes St. Gardens and into Waverley. August 1993. Alan Rintoul